#721 Cedrus libani Cedar of Lebanon PINACEAE 1959 Asia Minor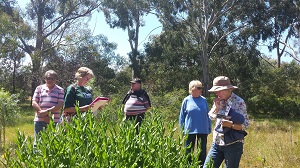 Free monthly guided walks: Arboretum guides lead free guided walks of Waite Arboretum at 11am on the first Sunday of every month, meeting at Urrbrae House entrance stairs. The walk lasts one and a half hours duration. No booking is required.
Speciality and theme walks take place and maybe advertised in the Forthcoming Events section of the our quarterly newsletter (Friends of the Waite Arboretum Inc. Newsletter) and in the Whats On section of the website. The cost of $5 per person may apply. Please contact: Erica Boyle, Arboretum Officer at erica.boyle@adelaide.edu.au
Booked Walks: can be general tours of the Arboretum, speciality walks, special occasion walks, themed walks such as Rare and Endangered Trees, Plants for Basketry, Out of Africa, Californian Oaks, Trees of the Mediterranean among many others can be arranged. School groups of all ages are especially welcome.
Cost $5 per person. Please contact: Erica Boyle, Arboretum Officer at erica.boyle@adelaide.edu.au
Self-guided walks There are two self-guided walks which may be downloaded and printed or stored electronically.
Walks with the Waite Arboretum App: The Waite Arboretum app can be downloaded free to iPhone, iPad, Android phones and used as a guide. It allows users to visit the 2.300 tree species through an inactive map and track their GPS positions while in the Arboretum. The app provides visitors with information to enhance their experience while walking throughout the Arboretum.
Northwest Corner of the Waite Arboretum Guided Walk and Volunteer Oportunities
WAITE 2019NW corner tour brochure ERICA 30 April 2020 -min
Free Guided Walk in the Northwest Corner of the Arboretum take place on the first Sunday in October each year.
There are volunteering opportunities in the northwest corner of the Arboretum. The work include general maintenance work all year round, especially in the maintenance of new plantings – looking after plants with weeding and watering in the summer and winter months. It is a great opportunity to learn about some of the Aboretum' species collections and individual specimens. Photos and articles of the northwest corner are always welcome by the Friends' Newsletter Editor. For further volunteering information, please contact Waite Arboretum Officer Erica Boyle, erica.boyle@adelaide.edu.au